» Edible Oils » Cakes / De-oiled Cakes » Plastics » Cattle Feed

Edible Oils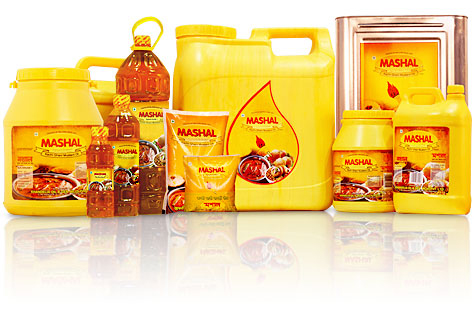 Refined Vegetable Oil
This oil is colourless and odourless. It has very low percentage of FFA content because of which it is very good for health.
PACKAGING
The brand is backed by a research team that is committed to the development of innovative consumer packaging fabricated from the finest raw material and conforming to international standards.

Types of Refined Oil Packaging

Volume
Container
15 Litre
Tin
15 Litre.
Can
5 Litre
Can
2 Litre
Can
1 Litre
Bottle
1 Litre
Pouch
Mashal Canola Oil

Mashal Refined Canola Oil has the least saturated fat of all cooking oils. * Less than half that of olive oil or soybean oil * Trans fat and cholesterol free * And high in Omega 3 and Vitamin E CANOLA Oil is Consumed Around the World It is the number one vegetable oil in Canada and Japan, while number two in Mexico and the United States. Overall, it is the third most consumed vegetable oil in the world. There is a global need for healthier foods. With worldwide issues like cardiovascular disease and diabetes, a small change like using a healthier cooking oil can make a significant difference. There is a consistent, reliable supply of Canola Oil available to help fill this need and make our world a healthier place. And it's affordable!